A first for our farm is a strawberry patch large enough to fill our desire for fresh
fruit plus give us berries for processing. A few have been frozen whole for later use, we have had some as the lead role in spring desserts, and combined another harvest with rhubarb for jam, but now there is enough to make a batch of purely strawberry preserves.
I have been pondering flavors to add; you know that surprise addition that will tease the tongue. Champagne, sage flowers, spearmint, elderberry flowers, or vanilla, are all ideas that have come to mind. But none of them sound as intriguing as leaving them single. Simply strawberry coming at the tongue, straightforward, the full flavor of ripe June fruit, a little sugar, a squeeze of lemon juice and nothing more. That is how I am going to play it this time.
Simply Strawberry Preserves
3 pounds strawberries, washed, hulled and sliced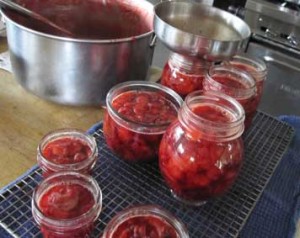 4 cups of sugar
Juice from one lemon
1 pound strawberry cleaned and sliced
Place all sliced and sugared berries in a large bowl, add sugar and lemon juice, let macerate in the refrigerator overnight. The next day drain the fruit from the juice. In a large pot boil the juice until it begins to thicken and then add the macerated fruit, bring it all to a boil, simmer for a few more minutes, add one pound of freshly sliced berries, bring it back to a boil. Turn-off burner, skim the foam, ladle into sterile canning jars, wipe jar rims with a clean cloth, and tighten lids.
Next process jars in a boiling water bath for 10 minutes
In the winter serve these on waffles or yogurt for breakfast or on ice cream for a simple dessert.