Chefs on the Farm: Recipes and Inspiration from the Quillisascut Farm School of the Domestic Arts
Something unique is happening at Quillisascut™, placing this tiny goat-cheese farm—named for a nearby creek—at the forefront of a national movement known as 'sustainable food.' —The Seattle Times
Chefs on the Farm is a visually rich tour of an organic farm and its community, where award-winning chefs and other cooks learn sustainable food practices.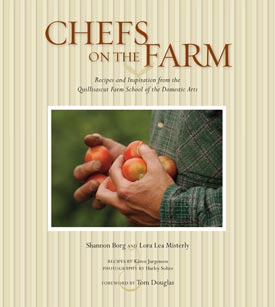 With the rising interest in organic and locally grown food, there is also an increasing interest in connecting the farm to the table. Chefs on the Farm describes the seasonal workings of Quillisascut Cheese™ Farm, a small, family-run business in northeastern Washington State. There, owners Lora Lea and Rick Misterly started a "Farm School for the Domestic Arts" where every summer, professional chefs, culinary students, food writers, and others live and work on the farm. Cooking only with ingredients they can find in Quillisascut's gardens and from its animals, students milk the 35 goats each day and learn how to make goat cheese. They butcher animals and learn how to prep the meat for the kitchen, as well as how to preserve other foods and bake bread in the farm-built wood-burning oven. They gather apples from the local orchardist, and learn about bees from the local beekeeper. By experiencing the farm first-hand, students and readers alike focus on sustainable practices and enjoy delicious recipes that can be easily translated to the home kitchen.
With over 65 tantalizing farm-fresh recipes, Chefs on the Farm is the perfect "treat" for foodies, organic gardeners, cookbook addicts, and sustainable practitioners alike.
Bios
Shannon Borg (author) is a Seattle-based writer, editor, poet, and wine educator. She has written about travel, food, and wine for magazines, including Seattle, Northwest Palate, Wine Press Northwest, avalonwine.com, and citysearch.com.
Lora Lea Misterly (author) is a member of Tilth Producers, Rural Roots, Washington Sustainable Food and Farming Network, Chefs Collaborative, and Seed Savers Exchange. She is a founding member and leader of Slow Food–Upper Columbia, as well as a team member for Northwest RAFT (Renewing America's Food Traditions), a national Slow Food project.
Chef Kären Jurgensen (recipes) is the Chef Instructor at Quillisascut™ Cheese Company's Farm School and at Seattle Culinary Academy, teaching farm-to-table practices and philosophy to professional chefs, culinary students, and agricultural professionals.
Harley Soltes (photographer) is a photojournalist with a deep appreciation of farming and farmers. Working as a staff photographer for The Seattle Times for over 20 years he has shot world events, celebrities, sports, fashion and the guy next door. His work has been published in The New York Times, Sports Illustrated, Time Magazine and National Geographic.
Foreword by Tom Douglas
Publication Date: October 2008
Publisher: Mountaineers Books
ISBN: 978-1-59485-080-6
Signed copies available directly from the farm $24.95 plus $3.95 for shipping- All profits from our book sales go to the Quillisascut™ student scholarship fund.
All profits from book sales go to the Quillisascut™ Education Fund.
Chefs on the Farm is also available from Amazon

or from Barnes and Noble, Powell's Books and other fine bookstores!