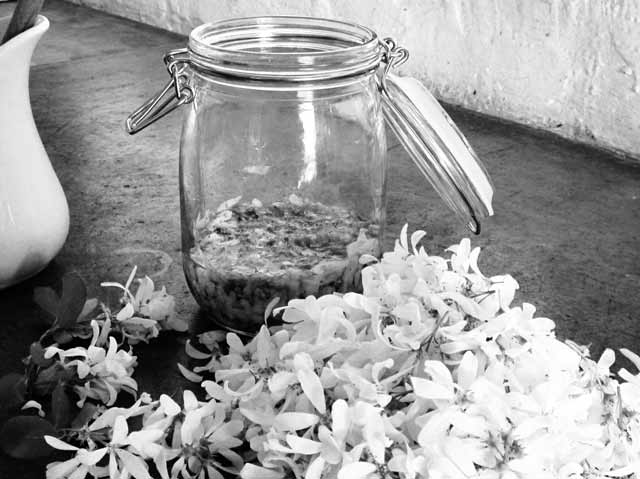 I love ingredients so this idea of playing with Serviceberry flowers is my idea of fun.
Serviceberries are one of the tastier wild fruits at Quillisascut and the easiest for us to savor fresh from the bush (think about elderberries, rosehips, Oregon grape, and chokecherries which all need additional sweetener and you will understand the context of tasty) Serviceberries are slightly sweet with a hint of bitter almond. Last year I was eager to make bitters so I tried macerating the ripe berries in vodka and it did give a slight almond flavor to the infusion. Today while the trees are still flowering I steeped some of the flowers in vodka and others were infused in simple syrup. The flavor is wonderfully bitter almond!
Serviceberry Flower Infused Vodka
2 cups of Serviceberry flowers
1 cup vodka
I was advised by my friend, Ann Harmon from Morning Myst Botanics, to do a double extraction and not leave the flowers in the vodka for more then one hour or it may start pulling out funky vegetal flavors. This means we will use half of the flowers (1-cup) in the first extraction and after one-hour drain the vodka from the flowers and pour it over the second cup of flowers. (I use glass or ceramic vessels as I am uncertain how metal would react with the alcohol extraction, if anyone knows the answer, share in the comments)
Place 1 cup of the Serviceberry flowers in a glass jar and cover with 1 cup vodka. Muddle the flowers in the vodka and push them down so they are covered with the liquid. Stir a few times over the next hour. Next separate the vodka from the immersed flowers. (I poured mine through a cheese cloth and twisted out as much of the liquid as I could) save the wrung out flowers and set aside.
Now for the second extraction pour the vodka from the first extraction over the second cup of flowers. Push flowers down under the liquid stirring a few times over the next hour. The flowers will turn reddish brown. Strain flowers from vodka and set aside the wrung out flowers.
Leaving the flowers in the vodka for more then one hour can start pulling out some unpleasant funky vegetal flavors and we are looking for that floral bitter almond scent and flavor in this infusion.

Serviceberry Flower Simple Syrup
2 cups water
1-cup sugar
1-cup fresh Serviceberry flowers
Wrung out flowers left over from the vodka extraction
Place water and sugar in a pan and bring to a boil, add all the flowers and simmer for five minutes (taste for flavor) if it starts to taste vegetal strain out the flowers. Remove from heat and strain. Place in sterile jar and refrigerate (will keep for two weeks)
More photos of Serviceberry flowers!
Yes, I do love ingredients, but now I need your help. What shall we make with the Serviceberry infusions? Please share your ideas!