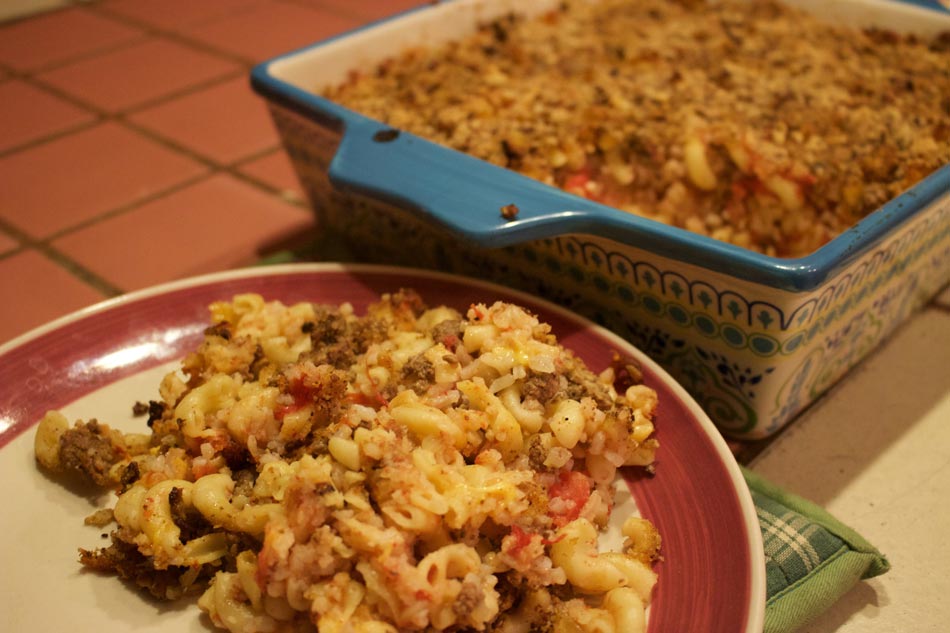 I have been working with my sister, Janae, and my nieces, Leah and Mikelle on a cookbook of family favorite recipes. The flavors and textures bring back happy memories of meals shared around our old kitchen table.
Last night I made this American Chop Suey Casserole. Janae gave me a couple quarts of her home canned tomatoes, essential to get the flavor that sets off this dish and Rick had to drive to Kettle Falls to pick up a block of Tillamook  Cheddar (shhhh)


Here is the recipe, let me know what you think.
American Chop Suey Casserole (not what you think, and isn't chop suey an american dish?)
1 quart canned tomatoes
1 pound hamburger
1 large onion
1 cup cheddar cheese in cubes
3 cups of pre cooked rice
3 cup of pre cooked macaroni
salt and pepper
2 tablespoons butter (to dot the bread crumbs)
enough bread crumbs to cover
In the cast iron dying pan saute onions until soft brown add hamburger a cook until done season with salt and pepper.
In a large casserole combine cooked onion, hamburger, tomatoes, rice, macaroni and cubed cheese. Sir until combined top with bread crumbs and dots of butter
bake at 350 for 1hour or until bubbly and bread crumbs are browned.