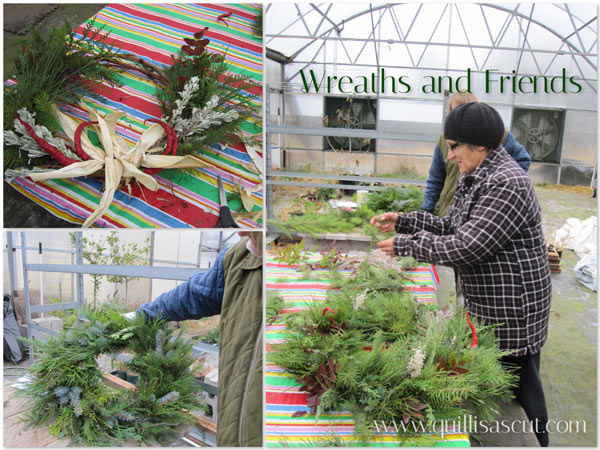 Have you ever wished for something and shortly after have it come true? I suppose this wasn't a big wish, but the other day a facebook friend said something about it being time for a Christmas wreath making evening, and I replied "I want to do this!" One problem, she lives halfway around the world, so getting together didn't seem practical.(that might take a stronger wish)
But a week or so later a friend of mine, who lives across the river, mentioned that she had been out gathering greenery to make a wreath. Seems she has a family and friend tradition of getting together this time of year and everyone makes a wreath to take home. Of course I invited myself to the party. Turns out only three of us showed up.
I made a form for mine out of grapevines, along with the greenery that they had previously gathered I added Qfarm additions of red chili's, corn husks, sagebrush and oregongrape.
When our projects were finished, we sat down to a hot bowl of black bean soup. Thank you Evelyn and Lisa for making my wish come true!