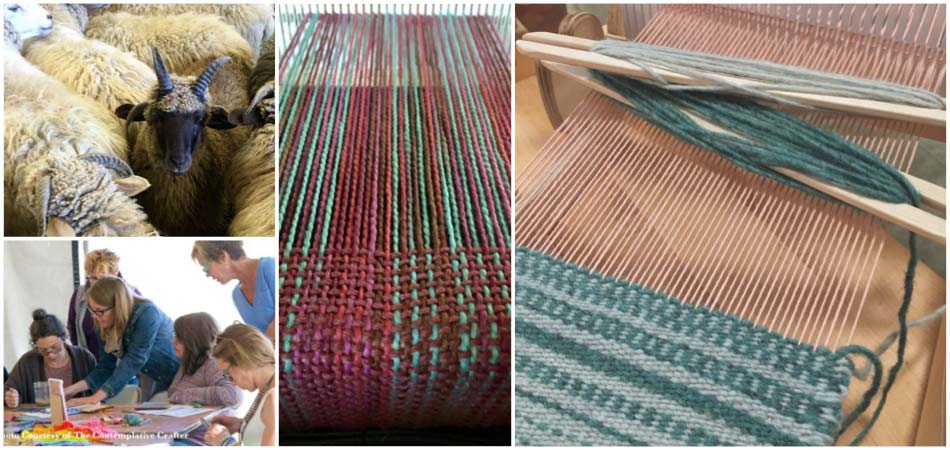 Weekend Weaving Retreat
Instructor Liz Gipson
July 14-16, 2017
Day One Friday July 14 9:00 am – 4:00 pm:
Make your meals an event by creating your own table linens. This class is designed for weavers with little to no weaving experience, although all levels welcome. Students will weave a placemat and along the way learn how to set up a Rigid-Heddle Loom, weave fabulous cloth, and finish your project all in a single day! You will walk away with more than just a placemat, you will learn all the fundamentals of weaving well, including how to set up your loom in 20 minutes or less, how to fix the most common weaving mistakes, and considerations for selecting yarns you can live with. Looms are provided. $165 includes Friday lunch, loom rental, handouts, and yarn.
Day 2 and 3 Saturday 9:00am to 4:00pm, Sunday 9:00am to 1:00pm:
Weaving Rugs on a Rigid-Heddle Loom: Rugs hold a special fascination for weavers and they are a celebrated part of the cultural history of the Southwest, where Liz lives. Learn the tips and techniques for weaving simple weft faced mini rugs from plain to fancy. These little rug will find all kinds of uses in your home as a runner, hotpad, coaster, key keeper, devise spot, table protector, precious object display, and more! They are addictive to weave and functional throughout the house. During the two-day workshop, students will warp their loom, select colors and design a mini rug, learn weft face techniques for creating patterns, and how to finish their rugs. Looms are provided. $185 includes Saturday and Sunday lunch, loom rental, handouts, and yarn.
Workshop Instructor Liz Gipson is the author of Weaving Made Easy. Her new book Handwoven Home will be released this year. Liz will bring lot of samples from her books, workshop videos, and online patterns:
Yarn is a big part of who I am—growing it, spinning it, and then making it do tricks, particularly the over/under kind (i.e. weaving). Passing this love on to newcomers and seasoned folks alike is what makes my heart happy. I spend my days weaving, writing about weaving, teaching others to weave, and enjoying this thing called life.
For more information on Liz check out her website Yarnworker.com
Weaving Retreat Weekend
Immerse yourself in the farm to table experience. Arrive Thursday afternoon for a special Quillisascut Cheese tasting, a farm and garden tour, and happy hour hang out with the goats! Enjoy evening meals with your instructor, wander the farm, and enjoy an optional video about the weaving traditions in New Mexico. $675 Includes course instruction, loom rental, yarn, materials, lodging and meals provided (Three nights lodging Thurs, Fri, Sat. plus Dinner Thursday, Friday breakfast, lunch and dinner, Saturday, breakfast lunch and dinner, Sunday breakfast and lunch)
Locals nonresidential packages available.
One day placemat workshop $165
One and a half day rug workshop $185
Take Both Workshops and save! $325
Workshop fees include: course instruction, loom rental, yarn, handouts, and lunch!