Voices of Diversity: Building Community From Farm to Table
Quillisascut Farm School for Chefs of Color – Who, What & Why?
August 25-29, 2022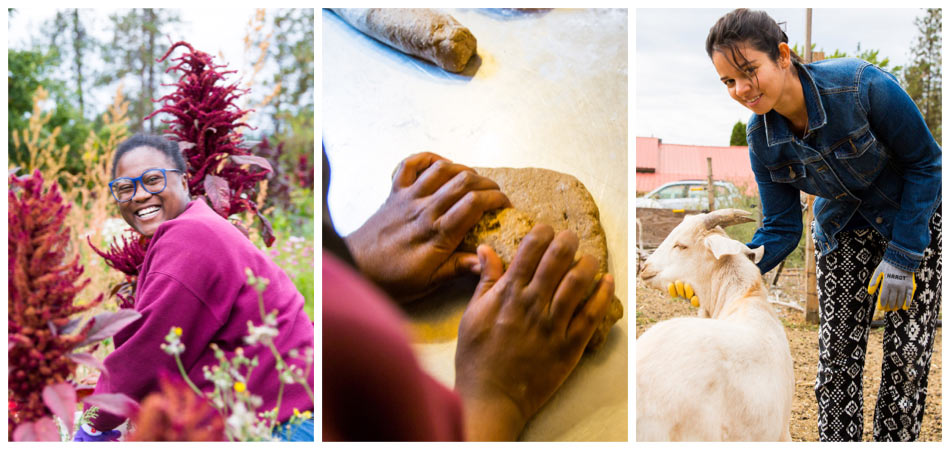 This workshop is designed for chefs, food service professionals or higher education culinary student from communities of color, helping them bridge the gaps in education around food and farming theory and practices.
During this workshop participants will cook and eat from the gardens and fields of Quillisascut Farm. Whole animal butchery, cheesemaking, hearth breads, honey bees and pollinators, lacto fermented foods, wild foods, jams and preserves, farm tours, herbal infusions, and lively discussions around the table!
After attending a Quillisascut Farm Culinary 101 workshop  Chef Kristi Brown, who owns Communion Restaurant in Seattle, had the vision  for this workshop.   Enriching the voices of diversity for Native American, Latinx, Asian, and Black/African American cooks and students, to learn about and value ecologically sound practices for careers in the farm and food industry. To a delicious future for us all!

Our inspiration for this workshop:
Who: My name is Chef Kristi Brown, and I am co-owner of a company called That Brown Girl Cooks! We produce a food product for grocery, do catering, produce events, cooking classes, and so on. I'm sure you understand…. I'm a culinary beast!
Several summers ago, while attending the Quillasascut Farm School as a board member of F.O.R.K.S. and chef/owner of That Brown Girl Cooks! I had a cathartic experience at QFS. I learned hands-on, in the most peaceful, beautiful atmosphere alongside Lora Lea, Rick and Chef Kären Jurgensen, what it can mean to make sustainability a part of your culinary practices. When I asked Lora Lea how many chefs of color they've had in attendance, she couldn't recount. She and I both agreed, that wasn't acceptable.
Why: Let's just be honest….The class and racial disparities inside the culinary sustainability/support local economy conversation is real.
What: This four day intensive class will give chefs/culinarians, who wouldn't ordinarily have an opportunity to participate in a such an experience. a practical hands on experience to see how Farm to Table can be real. You can read more about the workshop here
What else:
There are generous scholarships available to cover your tuition.
Apply for this amazing experience – Here's the link to apply – Application
Ignited? Please feel free to contact me, Kristi or Lora Lea for more information or questions.
For more information about the Chefs of Color :
Kristi – kristi@thatbrowngirlcooks.com
If you have further questions about the school contact:
Lora Lea – quillisascutfarm@gmail.com