Traditional Farmstead Cheese from the Pampered Pets of Pleasant Valley.
A love for the farm house cheese that her Mother made led Lora Lea and Rick Misterly on the journey to farming the land and starting Quillisascut Cheese Company™. Using only the milk from their own herd of goats, they produce a variety of aged raw milk cheese.
Quillisascut™ Traditional Curado Raw goat milk, rapid coagulation, cooked curd, pliable body when young, sweet, nutty, and grassy flavors, aged over 60 days.
Quillisascut™ Viejo Same technique as the curado aging to a spicy tang similar to a Romano, firm grating style cheese, aged over 4 months.
Farmer non-cooked curds, rapid coagulation, crumble on salads or serve with herb infused honey, aged 60 days or more.
Join the Quillisascut Cheese Community Supported Agriculture (CSA)

Available in stores around the Pacific Northwest, ask for them by name at your favorite service deli!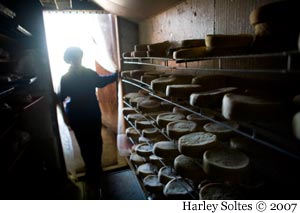 How do you pronounce the name Quillisascut™? Just like it sounds Quil-li-sas-cut. Quillisascut Farm™ has been producing farmstead goat cheese since 1987.