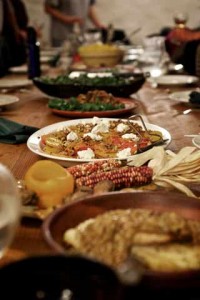 February 11-12, 2012
Arrive 2:00 pm February 11 and leave after brunch on February 12.
Cooking with local seasonal products can be a challenge in winter, but it does give us the opportunity to explore time honored techniques and practice creativity in the kitchen. With more farmers using season extenders and the advent of winter farmers markets, there are fascinating possibilities for the creative cook. If you are a practical cook who preserved summer in a jar or a curious eater who wants to explore the delicious meals of winter then join us for this workshop with Mary Ann Delaney.
Assembling the winter pantry
Home production of camelina oil
Selecting the perfect cheese plate
Develop your own seasoning salt or rubs
Adding winter vegetables to the menu
Enjoy making new friends around the table!
Talk to the goats
Cooking is fabulous with a group of friends!
$135 per person or $250 per couple, includes cooking instruction, recipes, food and lodging and a shopping bag filled with products from Quillisascut Farm so you can go home and replicate Cooking From the Winters Pantry.
Or send a check made out to Quillisascut Farm, 2409 Pleasant Valley Road, Rice, WA 99167 Application
MaryAnn Delaney is the manager of the thriving South Perry Farmers Market ("Thursday Market") in Spokane's burgeoning South Perry District. She is also the former chef/owner of Junebugs Café, a celebrated yet short-lived fresh organic bistro that served the same neighborhood. MaryAnn has conducted popular cooking workshops where attendees learn to cook healthy fresh organic meals, in bulk, for their families. She has also worked as a private caterer, event coordinator, and menu consultant for many years. MaryAnn is passionate about connecting with people, building the local food community, and of course cooking seasonally for her family and friends.