Check out our new t-shirt design!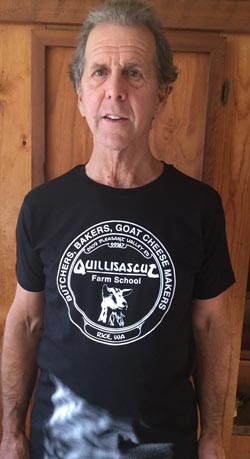 Stine Hansen Creative customized the new logo. Erne Kegel from Magna-Vis screen printed them right here in Stevens county.
The t-shirts are made from ringspun cotton 100% organic. Made in a fair trade factory in India. Yes, I looked for a USA made version and couldn't find the same quality tee in organic and made in an equitable way. If you know of a source of organic USA made cotton products please let me know!
These are gorgeously soft and the new logo is sharp and there is a goat! The image looks faded but that is the lighting. These are a beautiful deep black with white lettering.
XXL and XXXL are on pre-order so if you order them I will have a new run of shirts printed as soon as possible- maybe a month out.
The shirts are $25 each plus $5 for shipping
All profits from the sales will go to the Quillisascut Education Fund toward student scholarships.
A perfect way to share with the world that you support Quillisascut Farm School and the next generation of cooks, teachers, nutritionists and healthcare professionals!
We also have Tuscany style aprons in black with this same logo. They are long hits me below my knee. I will post a picture later. These are also $25 plus $5 shipping.