Sold Out Check out our new t-shirt design!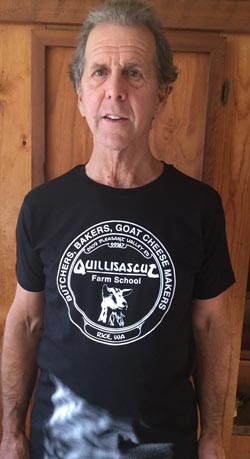 Stine Hansen Creative customized the new logo. Erne Kegel from Magna-Vis screen printed them right here in Stevens county.
The t-shirts are made from ringspun cotton 100% organic. Made in a fair trade factory in India. Yes, I looked for a USA made version and couldn't find the same quality tee in organic and made in an equitable way. If you know of a source of organic USA made cotton products please let me know!
These are gorgeously soft and the new logo is sharp and there is a goat! The image looks faded but that is the lighting. These are a beautiful deep black with white lettering.
XXL and XXXL are on pre-order so if you order them I will have a new run of shirts printed as soon as possible- maybe a month out.
The shirts are $25 each plus $5 for shipping