For the current issue of the Quillisascut Farm™ News e-zine, please click on the image at right.
The Winter issue tells about winter on the farm, with a true confession story about Lora Lea, bread and Daisy Mae. You will discover what is cooking and reflective photos from around the farm.
Check back as we add new pieces, like Ricks adventures with worm ranching, how the compost turns, and new kids on the block!
This is a carbon neutral publication and in the beginning of the creative process. Please send us your essays, photos, ideas or suggestions that you would like to see in the magazine.
Together we can make this creative journey come to life.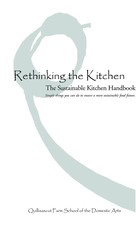 Rethinking the Kitchen: the Sustainable Kitchen Handbook Simple things you can do to ensure a more sustainable food future. One of the hardest questions in rethinking the kitchen towards a greener sustainable future is where to begin. This handbook lays out steps, from the basic to the complex, on how to invite these changes into our kitchens as we learn to reduce, reuse, recycle, and reinvent the role of the kitchen in our homes, businesses, and communities.
Farm to Table: Creating Connections Between Farmers and Eaters We have entered a delicious new age in America as a greater number of consumers — or eaters, as we call them in this publication — join forces with growers to demand more from our food and farming system. Thousands of farmers are reinventing their farms, seeing their role as supplying locally grown food to their communities as well as providing critical environmental services like clean water, wildlife habitat, and scenic open spaces. Communities, in turn, are seeing farms and farmers as part of the solution to many of the most difficult challenges faced by society today.
Food Choices Handbook Developed to assist High School teachers and their students discover the impacts of our farm and food systems on the environment.
Our check out this video with interviews of workshop students.