Farms
Community Agriculture Development Center Northeast Washington Small Farm Association list of farm members
Cliffside Orchard Jeff and Jeanette Herman seven acre WSDA certified organic orchard.
Crandall Coffee Roasters and Riverview Orchard John and Janet Crandall, organic and Fair Trade coffee, certified organic fruit.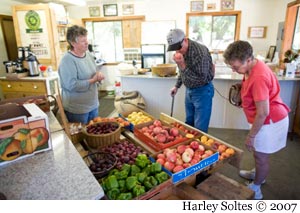 Olsen Farms Specializing in 23 varieties of gourmet potatoes.
Full Circle– A regional farm to table delivery service that includes a Quillisascut cheese option.
Bluebird Grain–  a great source for healthy whole grains and flour
Reference
Seasonal Cornucopia a tool that chefs, restaurateurs, home cooks and gardeners in the greater Puget Sound Region of the Pacific Northwest can use to easily identify when local foods are in season.