2013- will not be offered, sign up for the super intensive Farm Culinary 101 or the entry level Sense of Place
Experience making it easier, cheaper, and faster to cook something really delicious (better than eating out), at home, with friends and family. Sharing, caring, laughing and eating the best food in the world!
Are you a curious cook who wants to strengthen your cooking skills?  Are you dreaming about going to culinary school?  Or starting up a Bed and breakfast? Would you like to learn methods of cookery that will liberate you from being tied to a recipe?   Maybe you are a nutritionist or dietitian who wants to learn more about cooking with whole foods. Perhaps you're simply looking for a fun experience with a friend. This workshop is created for you!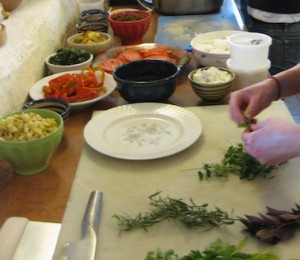 With Chef Karen as your guide you will gain hands-on skills learning the same techniques as taught in professional culinary programs.
The language of the professional kitchen
Kitchen fundamentals
Knife skills
Method cooking: braising, roasting, baking
Whole food cookery- meat, grains, legumes, vegetables
Hearth breads and wood-fired oven
Herbal infusions
Fundamentals of flavor
Farmers Rick and Lora Lea will share the bounty of information they have gleaned from 30 years of living here on Quillisascut Farm.
Small livestock care
Goat milk cheese production
Garden care from seed to harvest
You will learn to cook with organically grown, local and seasonal products and experience how delicious freshly prepared foods can be!
This workshop is limited to 12 participants. Tuition includes all course materials, meals, and lodging. (Transportation not included) $895 per person (full payment at time of registration)
Register here:
[contact-form-7 id="1557″ title="Intro to culinary arts"]